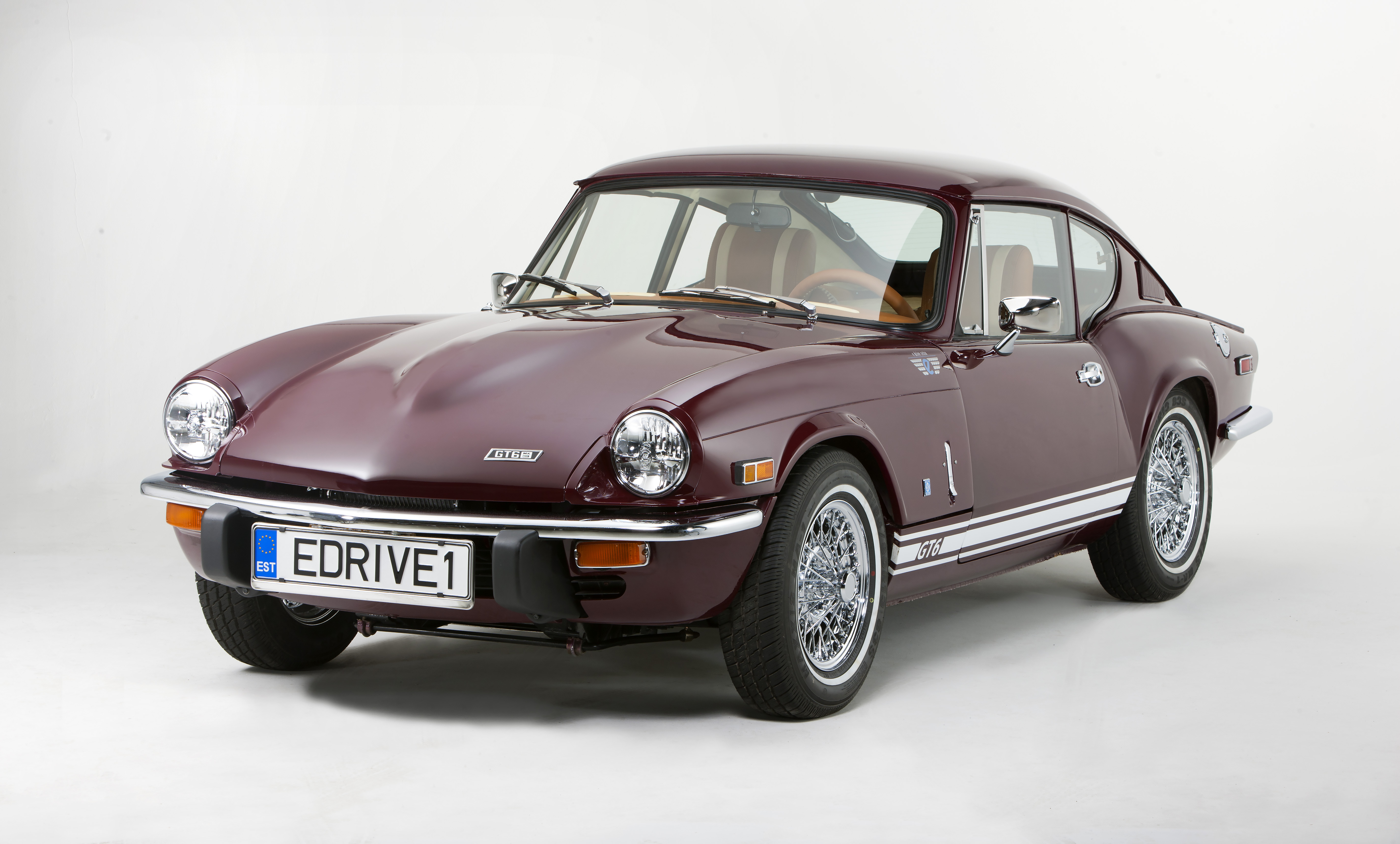 SPRING 2019 – SPECIAL OFFER  € 80,000*
Now you can own the famous 'E-DRIVE1'
1972 Triumph e-GT6
This e-Classic is AVAILABLE NOW for shipment to Your Garage
* Excluding VAT, Shipping, Taxes, etc.
Presenting the opportunity to own and proudly enjoy this exclusive,
and meticulously EV Transformed
1972 Triumph GT6 Mk-III, which we call "E-DRIVE1"
This car, which has been featured in dozens of articles, broadcasts and public events all across Europe & Scandinavia captures the carefree lifestyle of the era while providing a thrilling driving experience along the way. We meticulously re-engineered this original classic into a truly contemporary and reliable e-Classic.  Our engineers and restoration artisans collaborated via our unique EV transformation methodology to seamlessly integrate our patent-pending Modular EV Architecture into this original classic.
Signed by the Original 1965 Le-Mans Winning GT6 Driver, Simo R. Lampinen!
Simo is one of the famous "Flying Finns" and a legendary Rallyist selected by Triumph to drive the GT6 Prototype when it was first being developed by Triumph in 1965. He WON his class at Le Mans that year behind the wheel of that GT6. In 2016, on the 50th Anniversary of the GT6 model, he saw our E-DRIVE1 e-GT6 at the Classic Motorshow in Lahti, Finland. He was very enthusiastic about our vision for timeless e-Classics, and he agreed to autograph E-DRIVE1 with a paint pen, making this car one of the most unique GT6's in the world!  You can see the permanent provenance this adds in the images below. This is the real thing, and now you can proudly own this piece of automotive history.
Physical Dimensions
| | |
| --- | --- |
| Wheelbase | 2,128 mm (83.8 in) |
| Length – Width | 3,785 mm (149.0 in) – 1,486 mm (58.5 in) |
| Height – Weight | 1,193 mm (47.0 in) – 1,050 kg (2,314 lb) |
EV Drivetrain
| | |
| --- | --- |
| Power | 110 kW (145 hp) |
| Torque | 290 Nm (215 lb-ft) |
| Gearbox | Heavy-duty, fixed ratio, hypoid planetary. |
Energy Storage
19 kWh onboard capacity based on our patent-pending PowerPod© intelligent battery system with future-proof modular design, enabling power component upgrades as battery technologies advance.
Range + Recharging
Range ~125 Km dependent upon driving style & conditions
Supports flexible recharging for ultimate convenience
| | |
| --- | --- |
| Fast DC (CHAdeMO) | Charge in ~ 25 min |
| Convenience AC (230v) | Charge in ~ 6 hrs |
Availability
Contact us today to arrange for purchase & shipping of E-DRIVE1 immediately.
We have enjoyed developing and driving E-DRIVE1 since Fall 2015. Now it's time for us to make room for new projects. Please click on the link below and we will get back to you soon with details of our Spring 2019 special offer.
Note: all information is preliminary and subject to change