Returning to the eCar Expo conference series for a 3rd year in a row, this time in Gothenburg Sweden November 30 thru December 2, Team Retro-EV will display our e-Classics in-person, and is also a featured speaking sponsor on Sunday's program.
The eCar Expo 2018 promises to be the biggest and most inclusive event of the series thus far. This year, the eCar Expo will be held at the huge Swedish Exhibition and Congress Center in the heart of Gothenburg, a town well-known for its ties to automotive engineering and innovation.

Come join our Founder & CEO, Michael M. Richardson while he addresses the conference attendees during a special session on Sunday, December 2nd @ 10:15-10:45 to share insights on our unqiue approach to "Up-Cycling" vintage calssic vehicles using our patent-pending Electric Vehicle Transformation Architecture, to yield the most exclusive e-Classics available today!

Look for us near the entrance to the expo, as shown on the floorplan below: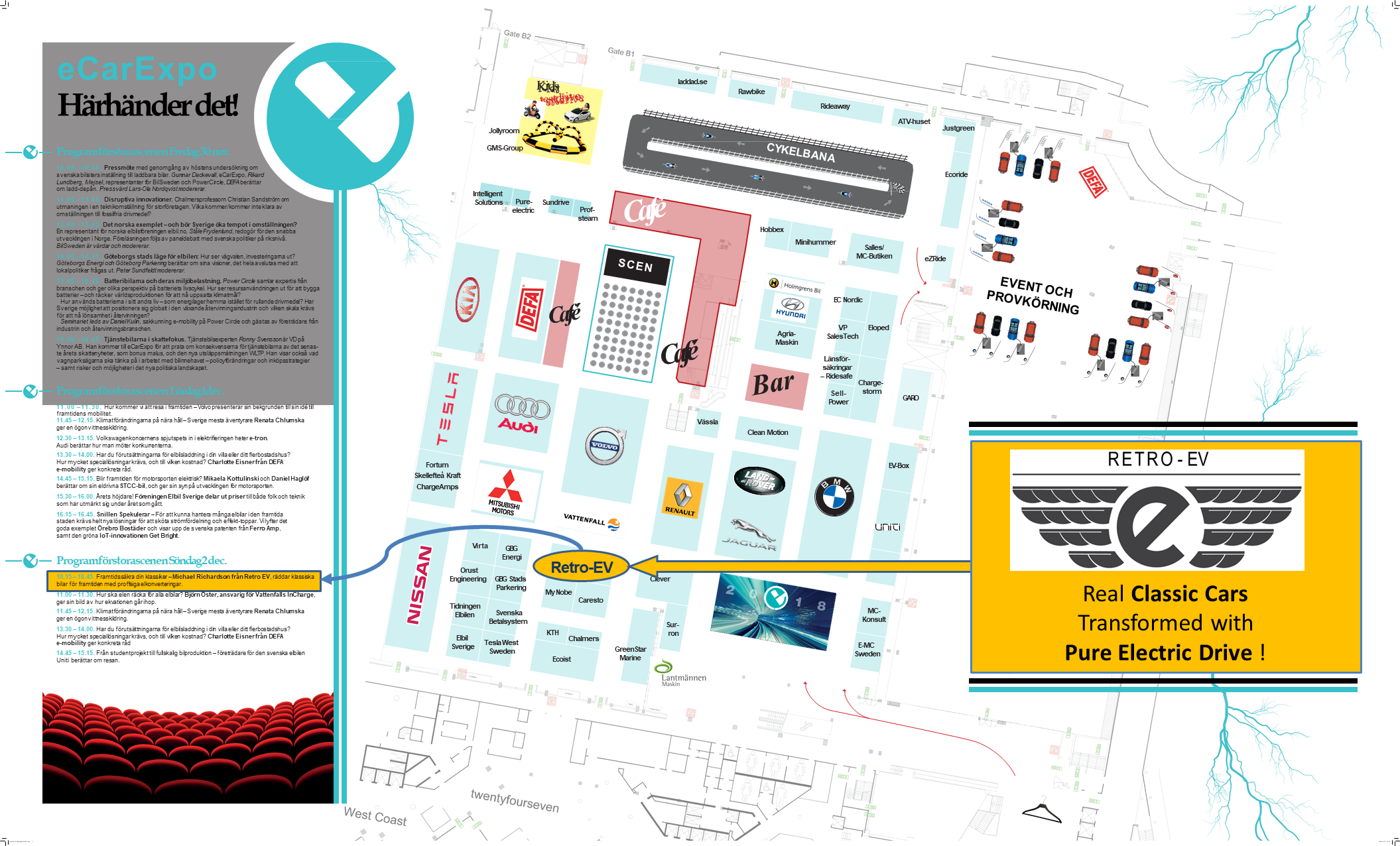 RETRO-EV Floormap at eCar Expo 2018
Large exhibits and product introductions from the major OEMs will include Jaguar (in their first appearance at the eCar Expo), as well as Audi and more. Don't miss this opportunity to survey all the latest developments in electric vehicles for the Scandinavian markets.
About RETRO-EV, OY
DELIVERING THE WORLD 'S FINEST COLLECTIBLE ELECTRIC VEHICLES
We are a team of entrepreneurs who love to dream, build and inspire automotive artwork. We are passionate about the beauty expressed through Timeless Automotive designs, and fueled by the emotions that these iconic masterpieces evoke. We are obsessed with engineering Excellence in everything we do. We also respect the planet and seek to innovate the future of e-mobility.
Truly the Best of Both Worlds:
Combining the best elements of the authentic classics with the best elements of contemporary EVs, without compromising either, that is our delivery promise!
Contact: [email protected]                 www.Retro-EV.com